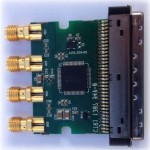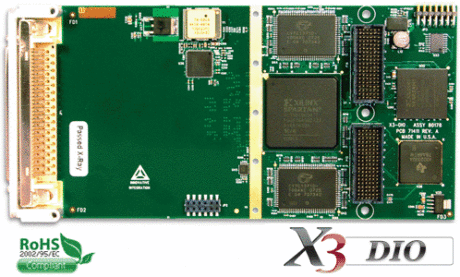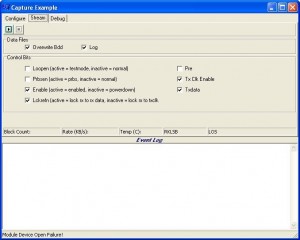 Capture Application (Windows)
In 2012 we were contracted by Astrium Ltd at Portsmouth (now part of Airbus Defence and Space) to develop a WizardLink Capture card so that WizardLink data from a Texas Instruments TLK2711a (SERDES device) could be recorded to disk under a Windows operating system.
The challenging technology in such a recorder is the real-time streaming of high speed data into a Windows PC environment and recording that to disk. However, this is off the shelf technology from Innovative Integration Inc's product line, so we based the system on the X3-DIO board and developed a plug on module to house the TLK2711a.
In its off the shelf state, the hardware and software can be used to acquire WizardLink data at up to 2Gbps carrier, 200MB/s data. Modern SSD can easily sustain recording at these speeds. Therefore we can supply the hardware (X3-DIO and plug-on module shown above) with software and you can use an XMC adapter to fit them inside your PC. Provided your HDD/SSD is fast enough you will be able to record WizardLink data straightaway.
If you require faster record speeds or transmit capability then please contact us and we can quote to meet your performance targets.